HIGH PRECISION 
CLEANLINESS ANALYSIS
The measuring of particle contamination is of the utmost importance in the manufacturing and pharmaceutical industries. Damage caused by these particles can often have detrimental effects in machinery and harmful effects in pharmaceuticals. That is why the Clemex PSFilter is specially designed to analyse contamination in different areas by measuring particles collected on membrane filters, wafers, tape lifts, or gel packs.
Clemex PSFilter allows to choose from pre-programmed International Standards such as IEST-STD-CC1246D, ISO 16232, ISO 4406-4407, or USP 788. It also offers the option of customizing its properties so that in-house standards can be applied.
Types of samples
Membrane filters
Silicon wafers as witness plates
Tape lifts 
Gel-Pak products

CFR 21 PART 11 COMPLIANCE
With the User Management module, administrators can add users, create user groups, and trace events in the audit trail. This optional module allows electronic signature embedding and is secure and reliable.
INDIVIDUAL REPORTS FOR UP TO 6 SAMPLES
Measure particulates on six different samples without user intervention. Review the data after the scan is complete. Produce an individual report for each sample analyzed.

CONTRAST THRESHOLD
Transparency, low contrast and more or less perceptible outlines make some objects hard to distinguish. Contrast Thresholding is ideal for faint objects on a filter, thin-walled cells and variable thickness crystals.

LARGE FIBERS
Large fibers and small dirt particles are all identified in the same run. Outsized fibers, which are larger than the field of view, are stitched together with the automated mosaic function.

NIST-TRACEABLE AUTO CALIBRATION
Using our NIST traceable micrometer, Clemex software automatically calibrates each lens, eliminating operator subjectivity. The system returns accurate, reproducible and traceable results.

AUTOMATED REPORTING
Reports are generated automatically after each analysis and can be customized to suit your needs. You can add a company logo, images taken during analysis, graphs and charts, statistics and results.

CIRCULAR STAGE PATTERN
This feature helps you to easily create rounded stage patterns when analyzing membrane filters or wafers. You control variables such as size, shape, and the number of fields while the software does the rest.
MORE FEATURES
ACCURATE DETECTION
Detect objects that are difficult to distinguish because of their their transparency, low contrast or faint outlines.
CLASSIFY OBJECTS
Isolate objects using any measurement type (length, width, aspect ratio, roughness, etc.).
CONDITIONAL INSTRUCTIONS
Analyze objects that meet certain criteria, such as size, shape or orientation.
DIRECT MEASURES & ANNOTATIONS
Annotate your images on-the-fly during your analysis; include results and visuals in reports.
EXTENDED DEPTH OF FIELD
Obtain a sharp composite image made up of several image slices, perfect for uneven surfaces.
EXTERNAL DEVICE CONTROL
Activate external devices such as valves, locking devices, alarms, lights.
IMAGE OPTIMIZATION
Shading correction, auto-exposure, white balance, auto-focus, parfocality and paraxiality for each magnification.
MOTORIZED STAGE CONTROL
Controlled through the software, scanning regions can be defined using pre-built templates.
SEPARATE OBJECTS
Separate adjacent objects automatically prior to performing measurements.
SCAN REGION AUTOMATION
Automated stage pattern creation based on detected objects or sample reference points.
THIRD PARTY IMAGES
Import images from various sources, such as SEMs or scanners.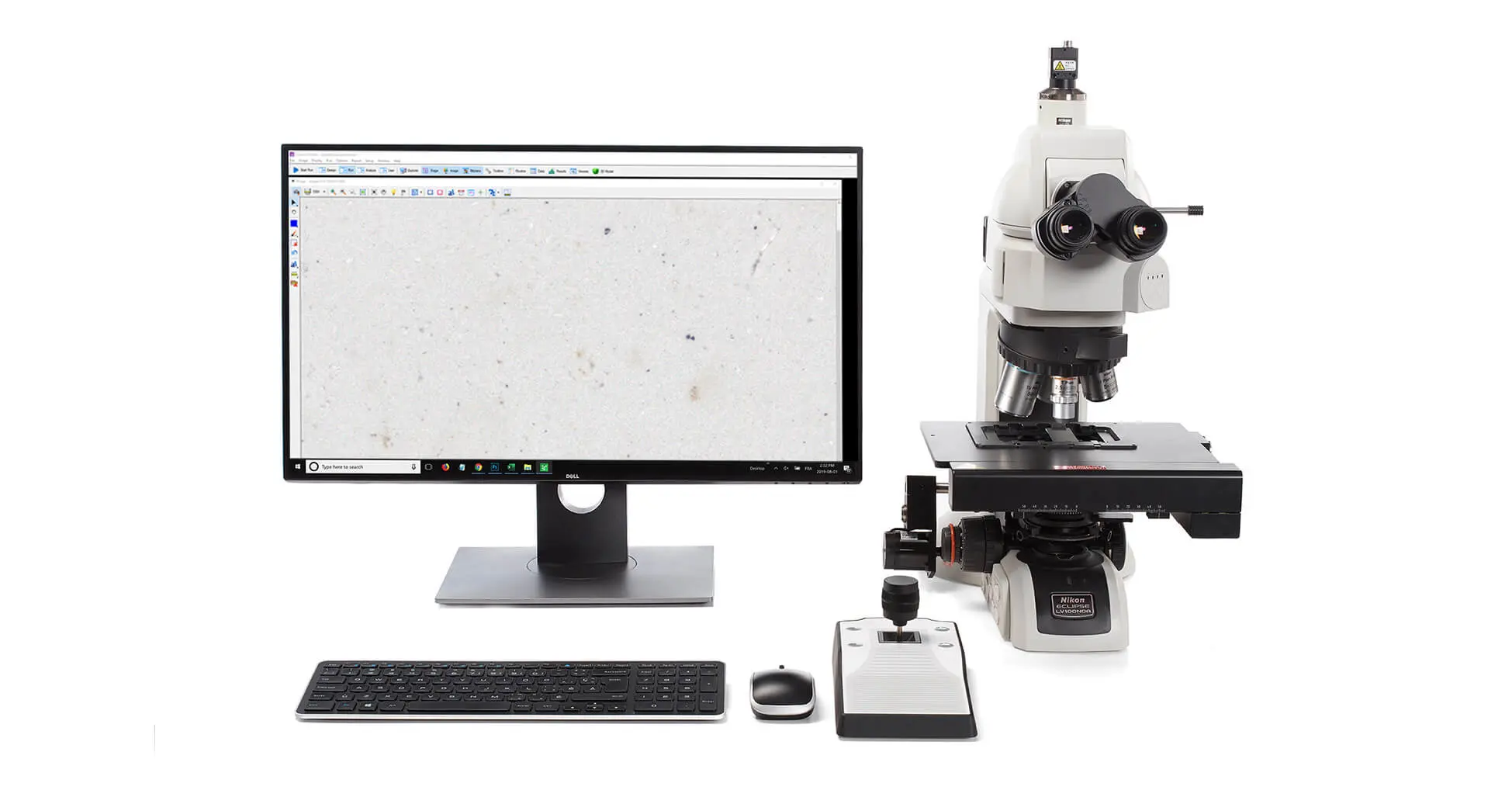 Typically an upright microscope, a motorized stage, and a high-resolution camera are selected to fit your specific image analysis needs. We ensure a seamless integration of all components.
Analysis of your needs by a technical representative
Configuration, fine-tuning, and calibration
On-site installation and training of your team