ULTRARAPID
INCLUSION RATING
Clemex CIR helps quality control laboratories vastly improve their productivity by analyzing inclusions in steel with impressive speed, accuracy and repeatability. Very simple to operate, the inclusion rating software will allow you to reduce analysis time to less than 3 minutes for a 160 mm2 area with minimal user intervention.
ENHANCED REVIEWING CAPABILITIES
Improve your decision-making process by gaining insights into your data. With the latest version of Clemex CIR you can sort, filter and export measurements of each inclusion, thus obtaining meaningful details about your sample.
Our automated image analysis system is designed to detect the following inclusions and rate them according to most recognized standards: sulfides, aluminates, silicates, globular oxides, single globulars, borides, carbides, nitrides, and carbonitrides.

ASTM E45 Methods A, C, D, E
Standard Test Methods for Determining the Inclusion Content of Steel
ISO 4967 Methods A, B
Steel – Determination of content of non-metallic inclusions – Micrographic method using standard diagrams
DIN 50602 Methods M, K
Metallographic examination; microscopic examination of special steels using standard diagrams to assess the content of non-metallic inclusions

JIS G 0555
Microscopic testing method for the non-metallic inclusions in steel

EN 10247
Micrographic examination of the non-metallic inclusion content of steels using standard pictures

EASY DATA SORTING
Take advantage of the most efficient data browser on the market. All detected inclusions can be sorted, filtered and validated within seconds allowing you to focus on critical data.
MAP OF ENTIRE SAMPLE
Locates and maps inclusions of the entire sample area, aligned vertically or horizontally. Worst fields are identified rapidly and artifacts can be removed. Operators navigate from one sample to the other with ease.
TRACEABLE OBJECTS
Select inclusions and artifacts on a map of the entire sample. Toggle between this map view and the selected objects to accept, reclassify or reject them.
CLASSIFY OXIDES AND SULFIDES
Adjust the thresholding to detect oxides and sulfides accurately. Eliminate fine artifacts and scratches.
FLOATING WORST FIELDS
ASTM, ISO or DIN worst fields are identified automatically. Worst fields are displayed on the sample map using colors that correspond to inclusion types.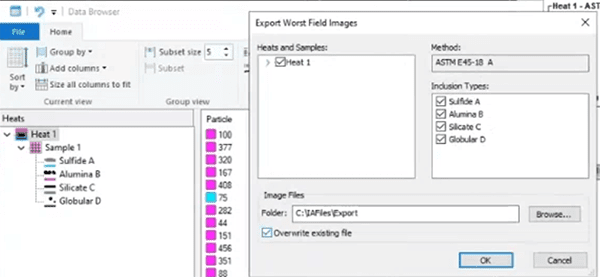 SAVE IMAGES OF WORST FIELD
Automatically export worst field .tiff images showing detection. This greatly saves time when creating reports for the ASTM E-45 Method A standard.
UNMOUNTED SAMPLES
Save time on sample preparation by inserting your unmouted samples (up to 24) directly into a custom magnetic sample holder.
MORE FEATURES
DIFFERENT HEATS
Analyze up to 6 heats with 6 samples each during the same run.
EXTREME VALUE ESTIMATION
Statistically characterize the distribution of the largest inclusions using results of up to 4 trials according to ASTM E-2283.
IMAGE OPTIMIZATION
Auto-focus, auto-exposure and automated shading correction.
LARGE INCLUSIONS
Long inclusions that span across several fields are detected and measured as one inclusion.
MULTI-PLATE SAMPLES
Interfaces between stacked samples are ignored.
RELOAD PATTERNS
Save time by placing samples on a magnetic stage plate and reuse previously saved patterns.
REPORTING
Save results in many formats including xls, txt, csv, and ASCII for post-processing.
SAVE IMAGES
Images captured during an analysis can be saved for further use.
Typically, an inverted Nikon microscope, a motorized Marzhauser stage, and a high resolution camera are selected to fit your specific inclusion rating needs. We ensure a seamless integration of all components.
Analysis of your needs by a technical representative
Configuration, fine-tuning, and calibration
On-site installation and training of your team