About Thermetco
Since 1982 the company has been a major player in the metallurgical industry, offering a wide range of heat-treating and inspection services.
They are now first in Quebec and third in Canada, a rank they can attribute to strategic innovation efforts which allowed them to increase their production capacity and diversify their target sectors.
A few years ago, the company moved from Montreal to Chateauguay, a suburb of Montreal. The challenge of moving a well-established thermal treatment plant was to continue production while building new furnaces and reinstalling existing ones in the new 50,000 sq. ft facility, a process that took serious planning over a 2-year span.
Metallurgical sample testing
Repeatable results for metallurgical sample testing are crucial for Thermetco's customers in the automotive and aerospace sectors. Manufacturers of parts such as gears, bearings, or engine components provide detailed internal specifications for product quality testing after treatment.
Rigorously followed by Thermetco's materials analysis team, these procedures are subject to supplier quality audits, which can take place as frequently as every two weeks.
During these audits, Thermetco's capabilities as a commercial heat treat supplier must be evaluated, namely to verify that their metallurgical laboratory has the tools, procedures and expertise to accurately determine part quality. Auditors must also verify whether they have an effective system for calibrating third-party instrumentation.
The advantage of owning a Clemex system
"Clemex is recognized and trusted in the field of materials testing. As far as audits for the automotive industry are concerned, when inspectors see we are using a Clemex system, they are certainly reassured," says Vincent Houle, Director of Engineering and Quality at Thermetco.
His staff are eager users of Clemex software because of its simplicity. It is the simplest and the most reliable system for their application and new employees are able to easily learn the analysis procedure.
"Software that is easy to use, reliable and recognized in the field of heat treatment of automotive parts."
Types of analysis
Thermetco's Clemex system is used to perform simple image analysis on parts having undergone different heat treatments. Namely, manual measurement of Intergranular Oxidation (IGO) and automatic phase detection.
Metallographic phase measurement is performed on numerous types of samples. Using a black and white camera, the percentage of certain phases such as ferrite, perlite, martenisite, bainite, austenite and some carbides is obtained automatically.
Below are two examples of microstructural exams performed daily in their lab.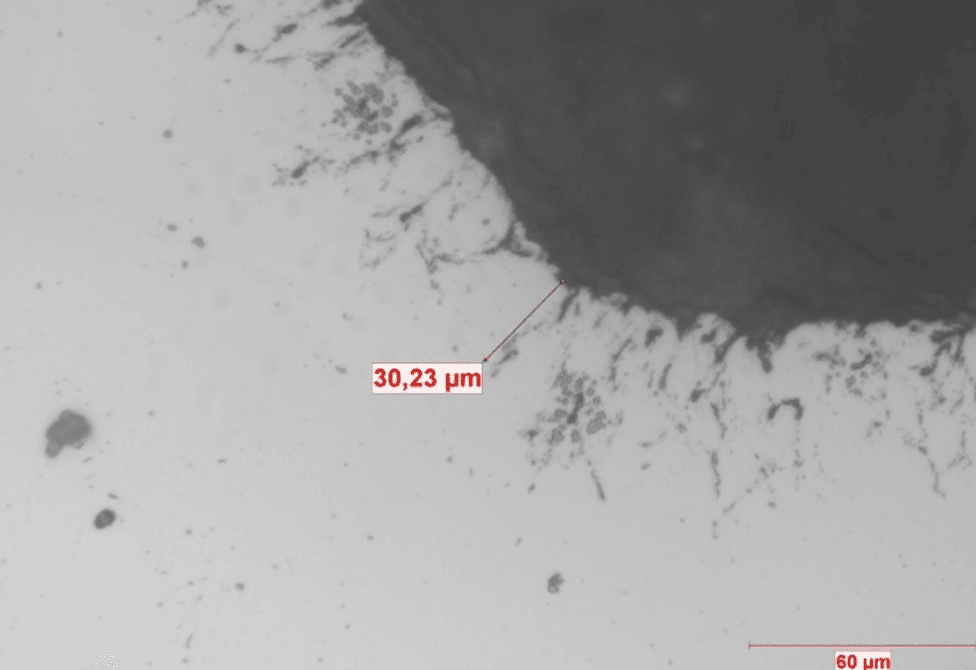 Intergranular Oxidation (IGO). Undesirable surface defect seen after metallographic polishing. The IGO is a manual line measurement drawn on the original calibrated image which is saved for future reference.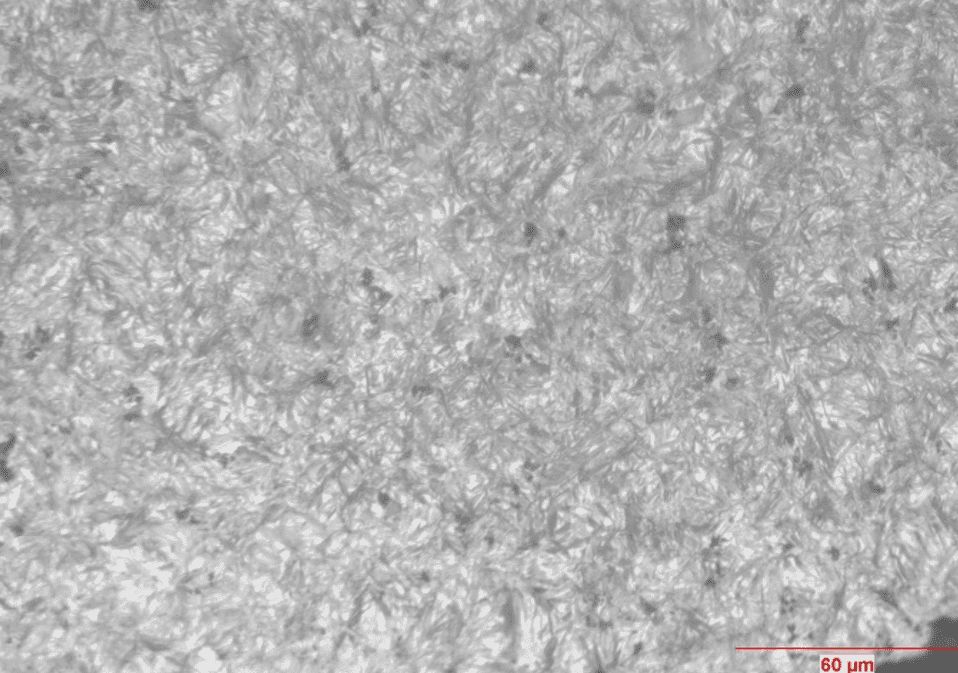 Observation of retained austenite (white phase on metallographic sample). This is an undesirable phase obtained during a heat treatment (Nital 3% etch). Percent of retained austenite is measured  automatically using a Clemex routine for phase detection.
References
Daniel H. Herring, March/April 2013 | GEAR TECHNOLOGY  https://www.geartechnology.com/issues/0313x/heat_treat_audit.pdf
Equipment used
Clemex automated Vision System connected to a Leica Microscope.